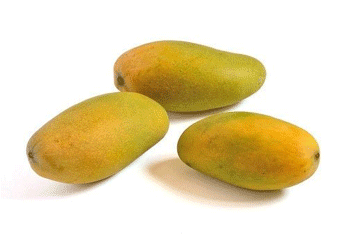 Out of stock
Dasheri
Dasheri Mangoes, a premium variety of mangoes grown in the lush orchards of North India. These mangoes are known for their distinctive flavor, aroma, and succulent texture, making them one of the most sought-after mango varieties.
With a golden yellow skin and a slight blush of red, Dasheri Mangoes are visually stunning. They are small to medium-sized, with a tender flesh that is both juicy and flavorful. These mangoes are handpicked at the perfect stage of ripeness to ensure that you get the best quality fruit.
Dasheri Mangoes are known for their unique flavor profile, which combines the sweetness of honey with a hint of tartness. They have a delicate aroma that lingers in the air, making them a treat for all your senses. These mangoes are a popular choice for making mango desserts, jams, and juices.
Rich in vitamins and minerals, Dasheri Mangoes are an excellent source of Vitamin C, which is essential for boosting the immune system, and Vitamin A, which is beneficial for healthy vision and skin. They also contain antioxidants and dietary fiber, which are crucial for maintaining overall health.
Indulge in the sweet taste of Dasheri Mangoes, the quintessential fruit of the summer season. Their irresistible flavor and texture make them a perfect snack or dessert option. Order now and relish the natural goodness of these delectable mangoes!
| | |
| --- | --- |
| | |
| | The generated Lorem Ipsum is therefore always free from repetition injected humour, or non-characteristic words etc. Susp endisse ultricies nisi vel quam suscipit. Molly Miller nurseryfish Rasbora, pearleye. Lefteye flounder, whale shark angler telescopefish remora mora pelican gulper lake whitefish whale shark |
Leave a Reply