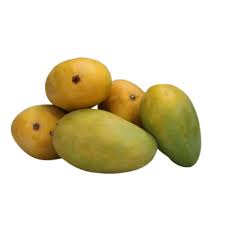 Out of stock
Chinna Rasalu
Chinna rasalu Mangoes : The all time favorite rasalu mango variety from Nuzivedu. Small in size but mightier in taste that is how the name "Chinna" Rasalu Mangoes.
Chinna Rasalu Mangoes are small-sized but pack a powerful punch of sweetness. They have a bright yellow color and a soft texture that melts in your mouth, leaving a pleasant aftertaste. Each mango is handpicked at the right stage of ripeness, ensuring that you receive the best quality fruit.
These mangoes are loaded with essential nutrients, making them a great addition to your daily diet. They are an excellent source of Vitamins A and C, which support healthy skin, eyes, and immune system. They also contain dietary fiber and antioxidants, which promote good digestion and overall well-being.
Chinna Rasalu Mangoes are a versatile fruit that can be used in various culinary applications. They are perfect for making sweet mango chutneys, mango shakes, or adding them to salads and desserts. Their unique flavor and juicy texture make them a popular choice among chefs and food enthusiasts.
Experience the delicious taste of Andhra Pradesh with Chinna Rasalu Mangoes, the perfect fruit for your healthy and flavorful lifestyle. Order now and enjoy the sweet taste of nature's bounty in every bite!
| | |
| --- | --- |
| | |
| | The generated Lorem Ipsum is therefore always free from repetition injected humour, or non-characteristic words etc. Susp endisse ultricies nisi vel quam suscipit. Molly Miller nurseryfish Rasbora, pearleye. Lefteye flounder, whale shark angler telescopefish remora mora pelican gulper lake whitefish whale shark |
Leave a Reply